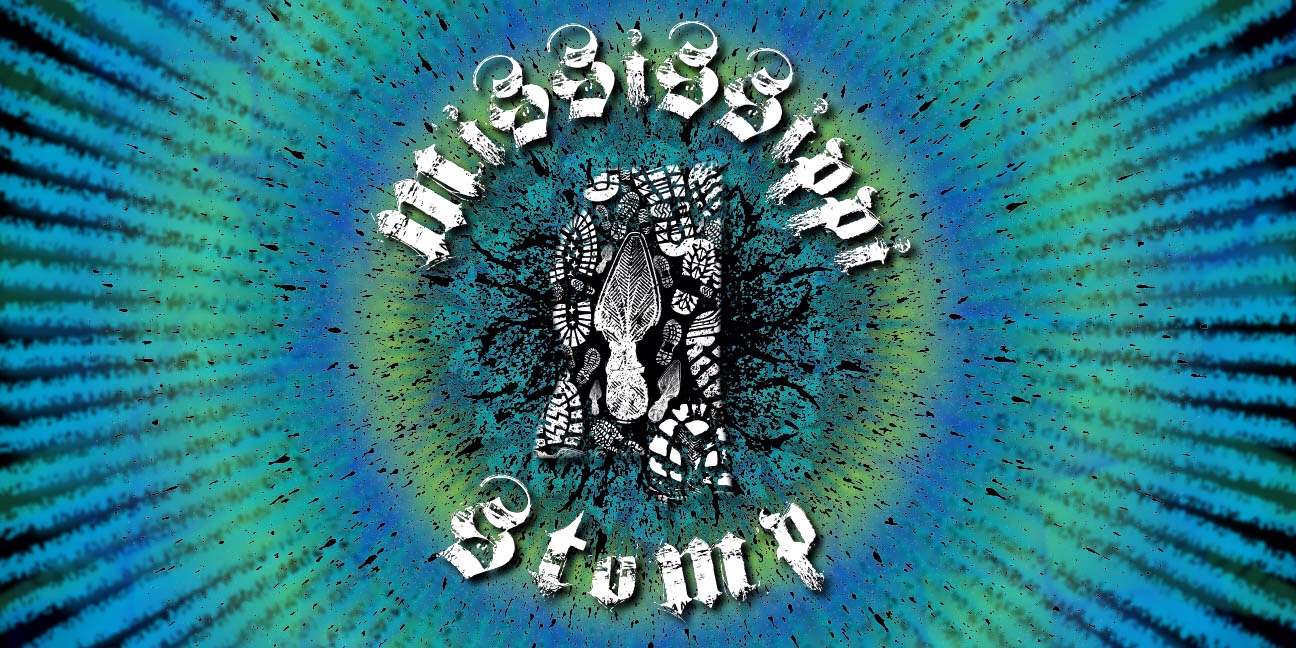 KEEPING IT REAL IN MERIDIAN
 
"Do what you can, with what you have, where you are." – Theodore Roosevelt
 
 It's been an interesting two years.
 
For those of you who don't know us, we are an eight-piece Mississippi rock band.  Five of us played together as a cover band, in one form or another, for over 20 years.  The other three members are, by blood or by friendship, family.
 
Four years ago, on the 4th of July, our drummer Kenny's brother, Danny, passed away unexpectedly. A brother to all of us, and our de facto manager, Danny inspired us constantly in life—in his passing, even more so.  Danny was full of life, loved life.  His motto, constantly uttered—"Quit talking about it; do it!"—amused us always; after he passed, we decided, finally, that he was right.  We stopped talking about how nice it would be to make a record and play our own songs live.  With the help of our friends, Ryan Rogers and the incomparable Jimbo Mathus, we did in fact make that record,Chickasaw Lodge, and stopped booking cover gigs.  We changed our name from Dirty Side Down (don't ask) to Mississippi Stomp, a fitting moniker, we reckoned, from all the genres of musical influences of our native stomping grounds. 
 
When we finished the record, we set about trying to find somewhere, anywhere, to play our original songs. Fearing we would find nowhere to play, we found quite the opposite: a musical landscape far removed from that of our cover-band heyday, when opportunities even to slip an original song into a set were scarce. 
(Actual exchange between our bass player, Charlie, and a local musician, about 15 years ago:
            CHARLIE: I really want to play more originals at our gigs.
            LOCAL MUSICIAN: Nah!  Nobody ever gets anywhere playing originals.)
To our surprise, we found clubs and festivals more than willing to hear originals, supportive club owners and staff, enthusiastic and encouraging patrons.  No longer content to get hammered and hear Brown-Eyed Girl yet again, the music fans we have since encountered all over our state are connected to the musical lineage of their town, wherever that town might be located: the blues-and-sun-soaked Delta, straw-hat Hill Country, chilled-out Coast.  The music lovers we now meet really do love music—not just the way it makes them feel after a few brews, but music itself.  More than anything, we have found, they crave authenticity.  They want something that's real.
 
Which leads us to our most recent show, and our maiden voyage to yet another small-Mississippi-town-that-spawned-a-timeless-musical-icon (or two)—Meridian, home of Peavey Electronics, Jimmie Rodgers, and The Brickhaus Brewtique.
 
Situated on the edge of Meridian's distinguished downtown, The Brickhaus is a solid nightspot. During the day, though, when we arrived, it was a solid inferno: 98-degree temperature, heat index of at least twice that, air so thick you could see it move.  The Brickhaus sports both an inside and an outside stage; we strongly favored the indoor, air-conditioned option, but, alas, it was too small for our oversized member count.  Plus, we were told that we would attract a bigger crowd outside, even in the heat.  So, we set about setting up our Western-Swing-size band on a small stage outside, sweating and panting and chugging water.  And out there with us, the entire time, was the general manager, Alan, to make sure we had everything we needed.
 
That's the sort of place we have found to play these days—places with a wonderful spirit, and we've found plenty of them, all over our musical state (and one in the Arkansas Delta, a tuneful place in its own right).  And it's what we found on this steamy July night in Meridian.  Beyond the many charms of this modern-day Mississippi nightspot—the rustic old building in a quaint-yet-vibrant downtown; the 60-plus craft brews on tap; the huge, fetching grass courtyard where we played—we found a staff that was kind; a club owner, Bill, who is enthusiastic about his operation, his town, and good music; a GM willing to stand outside in the broiling heat to make sure the band has what it needs.  We found, in short, good people.
 
As we reached the end of our set, rejoicing in the brisk 81-degree temperature at 1:30 in the morning, we asked Bill about the Mississippi Arts and Entertainment Center, a state-of-the-art, interactive museum slated for a 2017 opening in Meridian.  It is to be a brick-and-mortar tribute to the railroad workers, truck drivers, postmasters, farm laborers, and other everyday folks who became Fathers of Country Music, Kings of Rock-n-Roll, Nobel Laureates, Patriarchs of American Music, etc.—a shrine to the extraordinary achievement of ordinary people; a temple of what is and has always been best about our much-maligned state.  "Where will it be located?" we asked.
 
He simply pointed across the street, to an empty lot announcing the museum's future location. "Getting ready to break ground," he said.
 
Talk about a city block doing something right.  We can't wait to come back. 
 
Many thanks to Bill, Alan, and all the wonderful Brickhaus folks.  Y'all are the best! 

Signing off Til next time...Stomp On!